Accelerate your growth using our Float loan
Get access to the most customizable loans for SaaS and subscription businesses with recurring revenue.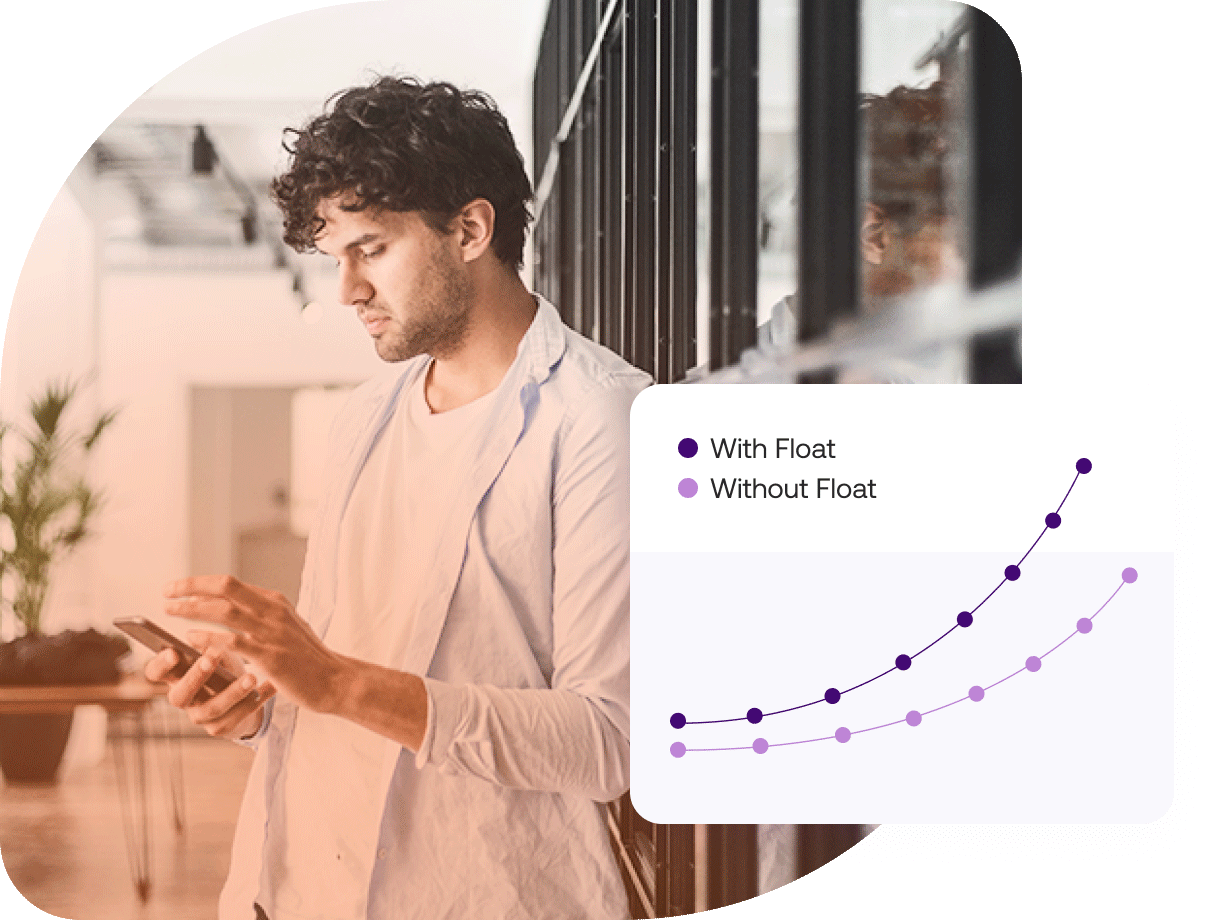 Seeing is believing
Compare and see for yourself why you should choose Float.
Keep ownership and control
We believe you should keep as much equity in your own company as possible. So no need for unnecessary dilution.
No personal guarantees
We use your recurring revenue as security for our loans. So there is no need for personal guarantees.
Flexible payment terms
Choose the speed you want to pay your loan, we offer terms between 6-15 months.
Grace period
Need a boost for your investment? We offer a 3 month grace period to help you get off to a strong start.
Fixed interest
The interest rate is fixed and paid in full the first month so you don't have to worry about loan costs rising during these uncertain financial times.
Personal contact
We believe in you and your business, don't hesitate to contact us if you have any questions about our funding. We are here to help.
Loan in preferred currency
Do you have entites in multiple countries? We offer our funding in multiple currencies so you don't have to take an unnecessary currency risk.
Smooth onboarding
Our onboarding process is quick and easy. Simply provide us with your financial data, and we'll get back to you with an offer asap. It's as simple as 1-2-3.
No additional costs or charges
You only pay for when you use it, no additional costs until you decide to use our loan.
Made by founders for founders
Protection & security
Your data is stored on servers in the EU
Data is secure with us, NDA option available
Registered with the Sweden's financial supervisory authority
Transparency
Predictable terms, no hidden fees
All the interest paid upfront
Same amortization each month
Freedom and full control
No personal guarantees
No share pledges
No cost for holding the credit line, you only pay interest for the loans you draw
Super convenient funding at your fingertips
Fast
Easy sign-up
Capital within days
Simple top-ups
Flexible
Draw what you need
When you need it
No unnecessary fees
Scalable
Up to 70% of your ARR
Growing credit with your business
The most founder-friendly loans in Europe
Keep full ownership
Get funded without dilution or share pledges. We believe you deserve to have the majority of ownership and control in your company.
No personal guarantees
We see your recurring revenue as security for the loan. There is no need for personal guarantees or pledges from you or your board.
Fixed upfront interest
With our loans you pay all interest at the start. No hidden fees or scary surprises. You know exactly how much it will cost from the begining.
Try before you buy
Get a credit offer and try our loan configurator for free without any commitments or charges.
Create your account
Sign up and get an accurate credit offer without any commitments.
Connect your financials
Financial info needed to assess your credit rating is secure with us. NDA option available.
Get credit offer
Within 72h after connecting your data we will get back to you with an offer.
Receive your funding
After configuring your first loan you will receive your funding within a few days.